Hello everyone.
The Mixed Reality Forums here are no longer being used or maintained.
There are a few other places we would like to direct you to for support, both from Microsoft and from the community.
The first way we want to connect with you is our mixed reality developer program, which you can sign up for at
https://aka.ms/IWantMR
.
For technical questions, please use Stack Overflow, and tag your questions using either hololens or windows-mixed-reality.
If you want to join in discussions, please do so in the HoloDevelopers Slack, which you can join by going to
https://aka.ms/holodevelopers
, or in our Microsoft Tech Communities forums at
https://techcommunity.microsoft.com/t5/mixed-reality/ct-p/MicrosoftMixedReality
.
And always feel free to hit us up on Twitter @MxdRealityDev.
Multidimensional Scatter Plot Demo (Video)
If anyone is interested in Data Visualization using the HoloLens, I created a simple scatter plot demo!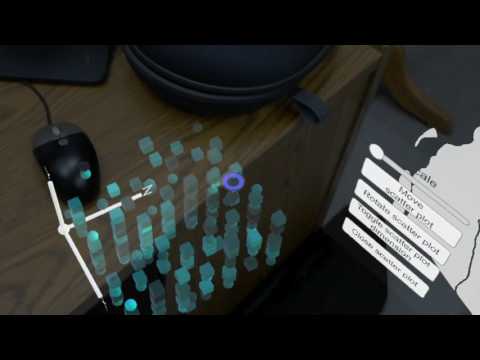 https://www.youtube.com/watch?v=7Tufy91Zvfg
The program pulls data from a csv file and outputs it as a 5-dimensional scatter plot. Data variables are encoded as XYZ coordinates, shape, and colour.
Dataset info:
The X axis represents immigration opinion, coded from 1-5 with high values favoring a more restrictive immigration policy.
The Y axis represents weekly wage, with higher values indicating a higher wage.
The Z axis represents party affiliation, coded from 1-7 with 1 being a strong democrat and 7 being a strong republican.
Colour represents ideology, with lighter colours representing more liberal views and darker colours representing conservative views.
Gender is encoded as shape, with squares representing males and spheres representing females.
The dataset can be found here, it is titled "immi1": http://www-eio.upc.edu/~pau/cms/rdata/datasets.html
Tagged: