Hello everyone.
The Mixed Reality Forums here are no longer being used or maintained.
There are a few other places we would like to direct you to for support, both from Microsoft and from the community.
The first way we want to connect with you is our mixed reality developer program, which you can sign up for at
https://aka.ms/IWantMR
.
For technical questions, please use Stack Overflow, and tag your questions using either hololens or windows-mixed-reality.
If you want to join in discussions, please do so in the HoloDevelopers Slack, which you can join by going to
https://aka.ms/holodevelopers
, or in our Microsoft Tech Communities forums at
https://techcommunity.microsoft.com/t5/mixed-reality/ct-p/MicrosoftMixedReality
.
And always feel free to hit us up on Twitter @MxdRealityDev.
My project on open-source telepresence on HoloLens
Hi Everyone,
I have recently published an open-source Unity project that allows for streaming point clouds to a HoloLens and displaying them in real time. The point clouds can be streamed from LiveScan3D which is an open-source application that performs 3D reconstruction using multiple Kinect v2 sensors.
The project can be used for many purposes including telepresence and visualization of pre-recorded data. The source code can be downloaded from my github account: https://github.com/MarekKowalski/LiveScan3D-Hololens
Below I am posting a short video that shows the project in action.
Let me know if you have any questions or suggestions!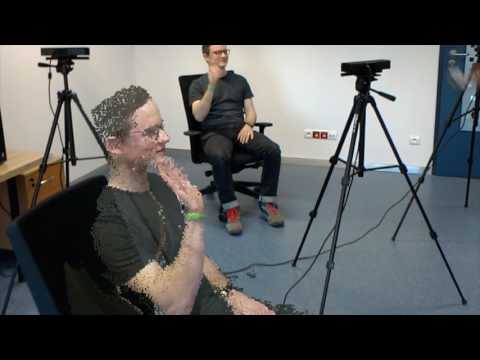 Tagged: