Shaking holograms with Vuforia
Hi everyone!
I am carrying out a project in which I have had to install Vuforia to detect objects. The problem that I am having is that the holograms vibrate with the movement of the head. Apart from this, if the movement of the head is serious, the HoloLens displays the following text: "Trying to map your surroundings". When it occurs, you need to restart the app so that it works.
Before that I used Vuforia, the app worked well, that is, the things that I mentioned before did not happen. I think that the configuration of Vuforia is good because I followed the documentation to install Vuforia with HoloLens.
The following images show the configuration that I have in my project so that someone can help me to solve my problem. I have to say that the version of unity and vuforia is 2017.2.1f1 and 6.5.25 respectively.
ARCamera

Vuforia configuration

Image target

Hierarchy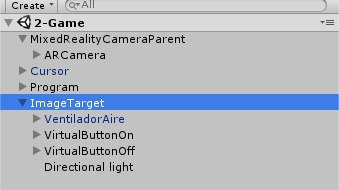 Settings

In publishing settings, the capabilities selected are: spatial perception, microphone, webcam and internetClient.
Thanks in advance,
Cristian.
Tagged: